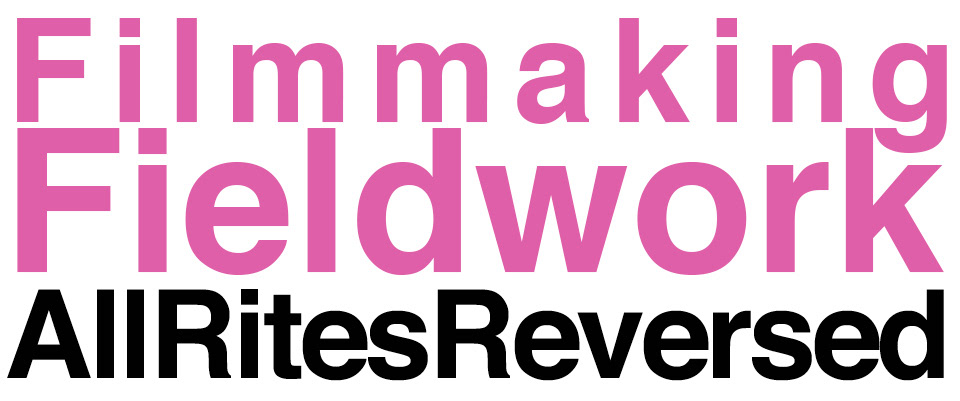 Filmmaking For Fieldwork
was established by 
Andy Lawrence
and
Paul Henley
in 2009. It was intended as an extension to the work they were involved in at
the Granada Centre for Visual Anthropology and as a way to
concentrate on the development of documentary film practice as a research method. After Paul's departure in 2014, Andy began to explore the potential for ethnographic filmmaking and documentary as a research tool suitable for an era of multi-disciplinarity. F4F™ now sees projects from fields as diverse as international relations, sociology, history, development, environmental humanities, town planning, midwifery, activism, the NGO sector, film and television, marketing, education and mathematics, as well as a strong presence that remains from anthropology. Currently Andy works with
Martha-Cecilia Dietrich
, post-doctoral fellow at the University of Bern, to deliver courses and project work internationally. We offer a
set of modular training courses
in audio-visual research methods and documentary filmmaking to a wide variety of participants. As well as our regular summer school at The Futureworks School of Media, we teach F4F in the UK at the Granada Centre for Visual Anthropology at the University of Manchester and at Sussex University in Brighton; the University of Bern in Switzerland; the Free University in Berlin, Germany; Yunnan University in Kunming, China. Our flagship course, the F4F Summer School, is an introduction to documentary particularly suited to those wishing to direct and produce, with an emphasis on the ways filmmaking can be used to explore and represent academic research subjects.  The F4F Summer School guides participants through a series of structured workshops, practical exercises and screening events leading to open discussions on methodologies, ethics, technology and more. We emphasise the central principles of our methodology through hands-on practice, introducing participants to basic skills in camera operation, sound recording and editing. By the end of the Summer School participants can expect to have foundational skills and the confidence necessary to make their own documentary films. Our other courses offer refreshers to those with some prior knowledge of filmmaking and research methods, or give guided assistance to those wishing to complete their own film project.
In 2018 we were overjoye
d to receive the prestigious
AHRC
Research Film of the Year
award for our collaboration with Professor Stephen Linstead (F4F2013) on his film
Black Snow
(2017), and for our efforts in establishing documentary practice as a research method. Our team is unique because we work at university research level and as professional filmmakers.
All Rites Reversed
was established by Andy in 2000 as the production name for his films that explore the more paradoxical aspects of human life -
One Long Journey
(2016)
,
The One and the Many
(2012),
The Lover and The Beloved
(2011),
Born
(2008)
,
The Message
(2003). Recently ARR has expanded to include F4F project work that our team have helped to produce -
Horror in the Andes
(2019),
Black Snow
(2017),
British Born Chinese
(2015)
. A camera and microphone work at the speed of light and sound, not only framing what occurs in front of the lens and around the pick-up but also preserving the embodied reactions of the filmmaker. The filmmaker develops a sense of proximity in the film by participating in the confusion that surrounds human action and in their attempts to involve the audience in an understanding of how fieldwork experience unfolds
in real time as well as through narrated stories. ARR uses the empirical art of filmmaking for fieldwork to look closely at the relationship between acting and thinking and to gather images and sounds that are useful to stories that challenge our pre-conceptions about the world. The potential of aesthetics to promote a radically different way of thinking helps us to explore the creativity of others and it also encourages us to think reflexively about our own creative practice. Most importantly we aim to make entertaining documentary films.
Our most recent film,
Horror In The Andes
(2019), directed by Martha-Cecilia Dietrich, examines a narrative genre taking over the imagination of Peruvian filmmakers.